Applications for many users wishing to either watch or data log a systems performance. It is now possible via your computers RS232 port and the RS232 port available on many of the HyVac digital vacuum gauges to display on your PC the pump down and system data in an easy and convenient manner. Data logging for quality control or quality assurance is now simple and affordable. With a HyVac battery operated gauge and a laptop computer a field level system analysis is possible without needing an electrical source.
Simple installation and the program is not a "pig". This is a great tool for users involved with vacuum on a regular basis and have needs for either a visual / printable display.
Complete windows compatibility and all that entails.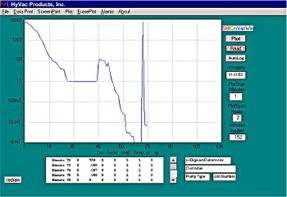 Click on Image for a larger picture.