---
HyVac Liquid Ring Vacuum Pumps
---
HydroVac single and multi-stage liquid ring vacuum pumps are used to provide vacuum to 29 inches of mercury (25 Torr, 25mm Hg vacuum) for a wide range of applications. In addition to medical and laboratory service, HydroVac pumps are used in industrial applications such as filters, sterilizers, autoclaves, evaporators, vacuum pans, and cookers... wherever vacuum is necessary to operate.

They are especially valuable and reliable source of vacuum when the user expects moisture or water generation from the process.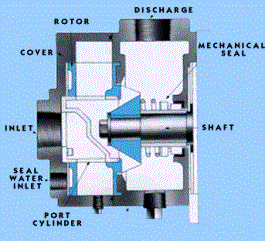 Principle of Operation
The HydroVac vacuum pump consists of a shrouded rotor rotating freely within an eccentric casing. There is no metal-to-metal contact between the rotor and the casing. Centrifugal force acting on the liquid seal within the pump causes the liquid to form a gas capturing ring inside the pump body creating vacuum. A fixed port cylinder inside the rotor directs the gas into the suction ports. Gas is trapped between the rotor blades by the liquid pistons as the liquid seal recedes from the port cylinder. The gas is trapped at the point of maximum eccentricity and is then compressed by the liquid ring as it is forced radially inward toward the central port cylinder. After each revolution, the compressed gas and accompanying liquid are discharged through the exhaust port.

During the pumping cycle the gas is in intimate contact with the sealing liquid and compression is nearly isothermal. When handling saturated vapor-gas mixtures the liquid ring acts as a condenser, greatly increasing the effective capacity of the pump.
HydroVac vacuum pumps cover a wide range of applications from 10 to 280 ACFM at vacuum to 29 inches of mercury (25 Torr). These pumps are ideally suited for wet vacuum applications or where condensable vapors are present. Because there is a selection regarding materials of construction, the application can be attacked with either bronze or stainless steel pumps.
We have featured the one pump at this time but we have many others in this category with differing flows and differing pressures. Simplex or Duplex systems. Once thru or self contained/full recovery packages.
Standard End user Applications Include

Filters

Evaporators

Sterilizers

De-aerators

Autoclaves
Vacuum Pans
Vacuum Cookers
Vacuum Ovens

De-gasifies
Extruders
Soil Remediation
House Vacuum
| | | | | | | | |
| --- | --- | --- | --- | --- | --- | --- | --- |
| MODEL | CFM@ 28" | INLET NPT | Length | Width | Height | Weight | Motor |
| 505 | 9.5 | 1" | 17.3" | 7" | 6.5" | 65 | 2 |
| 1505 | 19 | 1" | 18.8" | 9" | 8.0" | 80 | 3 |
| 2010 | 27 | 1" | 21.0" | 9" | 8.0" | 100 | 5 |
| 7530 | 59 | 2" | 23.1" | 10.5" | 9.6" | 200 | 7.5 |
| 10030 | 84 | 2" | 25.6" | 10.5" | 9.6" | 230 | 1 |
All dimensions are in inches. Dimensions are based on 3-phase TEFC motors.
Dimensions are accurate at time of printing and are subject to change without notice;
Please consult factory for up to date information.
End User Benefits
Rugged Simplified Construction
All components are designed for 24 hour per day continuous service under the most demanding industrial conditions.
Environmentally Clean
No oil used for lubrication or sealing. No oil vapor discharged to the atmosphere.
High Vacuum Characteristics
Exclusive axial flow design permits efficient operation in the full vacuum range from 0 to 29 inches of mercury (760-25 Torr).
Advanced Design
Employs mechanical seal and O-ring gaskets for zero leakage.
Vibration less Operation
No special foundations required.
Constant Power
Power requirements are constant over the full vacuum range. Non-overloading.
Low Maintenance
No metal-to-metal contact between rotating and stationary elements.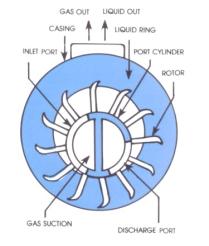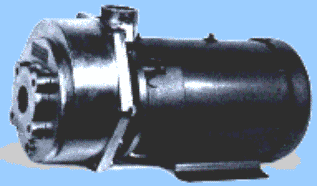 HydroVac 505 with 2HP Open motor, bronze construction and Buna seals.
Once Through Package
Containing seal water line, shut off line, Y strainer, solenoid valve and flow
control valve, 2 to 3 gallons per minute water demand, discharge separator, check valve,
isolation valve and vacuum gauge.
HydroVac 505 with 2HP Explosion proof motor, bronze construction and Buna seals.
Full Recovery Package
Containing seal water tank, full length sight glass, manual drain valve,
2 liquid level switches, makeup water solenoid, heat exchanger, Y strainer, flow control valve,
2-3 gallons per minute water demand, inlet check valve, isolation valve and vacuum gauge.
Fully piped and mounted on a steel base.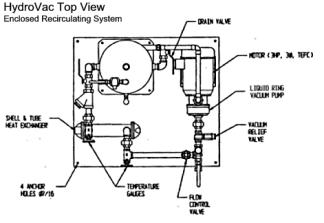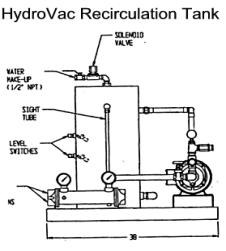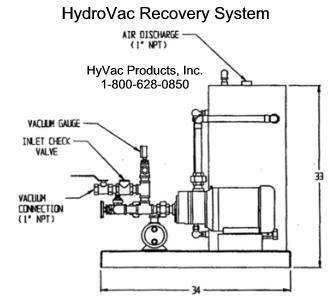 Outline Dimensions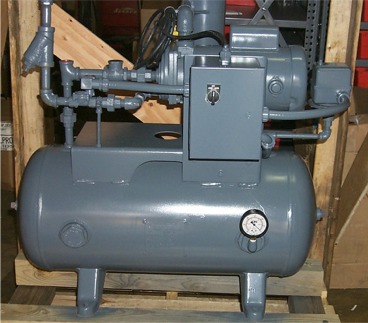 ---
11/26/2005 ©Copyright HyVac Products, Inc. All Right Reserved
Toll Free 1-800-628-0850