---
Two Stage Belt Drive Vacuum Pumps
---
This is our meat and potatoes vacuum pump for a large variety of industrial and laboratory purposes. We have 5 vacuum pumps in this category that we manufacture and they go into a wide spectrum of uses. They all basically reach an ultimate vacuum pressure of .1 micron. Free air displacement runs from 29 liters / minute to 500 liters / minute. Any of the pumps can be configured for various electrical requirements and sources including 115V, 220V, 240V, 380V, 460V, 3-Phase and Explosion Proof. Electrical frequencies available of 50 or 60 Hz for either US or overseas.

..HyVac 45

..HyVac 28

..HyVac 14

..HyVac 7

..HyVac 2
They are oil sealed rotary vane pumps using both an intake and exhaust stage (stator) to reach low pressures. The pumps all operate at relatively low speed (600 rpm) making for a durable and long lived product. It is not unusual for us to get a phone call for a 20-30 year old pump that is still working.

The pumps are manufactured predominately out of cast iron and use spring loaded cast iron vanes. The pumps come mounted on a base, with a belt guard and motor of correct size. They are quiet, heavy duty pumps. They have no elastomers internally to wear out except for the shaft seal which is external to the pump so these pumps can be depended on for years and years of service if properly maintained. The larger 2 pumps the HyVac 28 and 45 employ a modular approach to the intake stator (there are actually 3 in a 45) which allows for potentially a less expensive repair should foreign materials be sucked into the pump.

All pumps come complete with a gas ballast valve for purging water vapor and other foreign condensables.

All HyVac vacuum pumps come with a 1 year warranty.
Models specifications for HyVac 2, HyVac 7, HyVac 14, HyVac 28 and HyVac 45.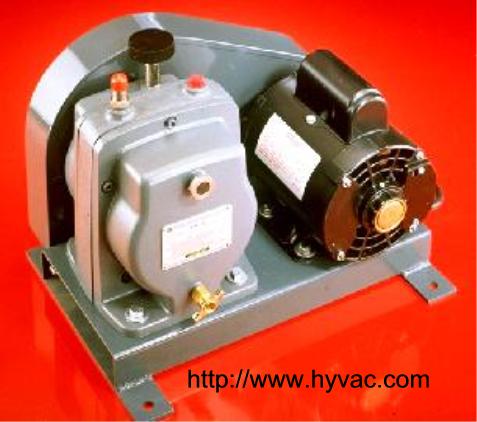 ---
11/26/2005 ęCopyright HyVac Products, Inc. All Right Reserved
Toll Free 1-800-628-0850