---
PressoVac / HyVac 1 / MegaVac
---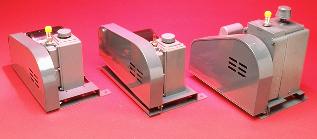 All these pumps make some noise. It is not generally objectionable, but you know they are on when they are working. The noise changes tone when the pump enters the low pressure ranges (less than 200 micron). Some people like this noise change as they know when the vacuum system is at pressure. Most people in a quiet lab type of environment might be better served with one of our other pumps as they are more unobtrusive. This trap plate style pump will take a lot of abuse from end users.
All HyVac vacuum pumps are available with various electrical configurations like explosion proof, 220V 50Hz for our European friends and many others. Standard is 115V 60Hz.
---
PressoVac vacuum pumps come in a variety of flavors. The primary one is PressoVac "vacuum only" but we also offer a "vacuum / pressure" model, hence the name PressoVac. This is a good choice if the end user is looking for about 15 psi positive pressure for some reason along with the benefits of a high vacuum pump. These pumps seem to be involved more with educators than some of our other models. The pump is a single stage design and is rated at 15 micron vacuum pressure. It is capable of 35 Liters per minute. We also have a PressoVac model that comes with an precision ground attached bell jar plate for mounting of a standard 9" diameter bell jar.
---
HyVac 1 vacuum pumps are small reliable 2 stage pumps capable of about .3 micron vacuum pressure. They are our smallest belt drive pump and are rated at only 10 Liter / minute free air displacement. This pump is an economical and viable choice if your system is relatively small in size. Again a durable, dependable pump.
---
MegaVac This was one of the original HyVac models design probably dates from the 1940s' we can only guess. We get so many calls on these pumps 30 years old / 40 years old that in 1993 the decision was made to again offer the MegaVac for sale. At the time it hadn't been produced for 5-10 years and we felt we had an obligation to the market to make these again. Yeah it's old technology, but these pumps will pull .1 micron and last forever. Phenomenal pump for neon manufacture. I am going to post some of the mail we get on these pumps because it is almost comical the amount of fans this pump has in the marketplace. We have had them go through fires, fall off of trucks and even fall off a roof and still work. Built like a tank. Pumps 59 Liters / minute.
---
11/11/2005 ęCopyright HyVac Products, Inc. All Right Reserved
Toll Free 1-800-628-0850