---
HyperVac Direct Drive High Vacuum Pumps
---

These six mechanical high vacuum pumps are the newest addition to the HyVac line. They incorporate two stage design, with the basic oil sealed rotary vane principle. They are excellent general purpose or roughing pumps capable of vacuum pressures to 5 x 10-4 Torr or .5 micron with fast recovery times. Since they are direct drive pumps, they offer high volumetric efficiency with ease of portability.

The HyperVac vacuum pumps are equipped with a gas ballast valve which helps purify the oil of condensable vapors and limit corrosion. These new pumps include a new generation forced oil lubrication system. The HyperVac pumps also incorporate an anti-suck back valve to eliminate reverse flow of the vacuum pump oil from pump to system. This also allows for the pumps to be operated at higher pressures. There is also an integrated fan, for cool operation. These pumps use the standard KF flange fittings on both intake and exhaust ports to allow for quick connection/disconnection to vacuum systems. The pumps are supplied with a charge of oil and an extra quart of HyVac Oil. The pumps have a mounting flange for attachment of external oil filtration systems.

Special feature of the pumps are the extremely low operating noise level. With the gas ballast valve in the closed position the noise level is 50dB on the smaller pumps and does not exceed 57dB on the larger pumps.

The HyperVac pumps are designed with a large, easily viewed, oil level sight glass, hide away carrying handle, capacitor start motors, on/off switch, electrical cord, oil drain ports (suitable size for oil purifying systems), and a rubber cushioned base for vibration isolation. The pumps come standard with HyVacs' one year parts and labor guarantee assuring complete customer satisfaction.
Thinking High Vacuum Pumps????
call HyVac 1-800-628-0850
---
HyperVac« Direct Drive High Vacuum Pumps
| | | |
| --- | --- | --- |
| Specifications | HyperVac 100 | HyperVac 200 |
| Discontinued 01/01/01 | See New | HyperVac Models |
| Pump Speed Liters / Min. | 100 (3.5 CFM) | 200 (7 CFM) |
| Ultimate Pressure No GB | 5 x 10-4 Torr | 5 x 10-4 Torr |
| Ultimate Pressure + GB | 5 x 10-3 Torr | 5 x 10-3 Torr |
| Water Vapor Tolerance | 40 mbar | 25 mbar |
| Pump Speed | 1725 RPM | 1725 RPM |
| Motor Speed | 1725 RPM | 1725 RPM |
| Motor HP | 1/3 HP | 1/2 HP |
| Noise Level dB No GB | 50 dB | 50 dB |
| Oil Capacity | 2/3 Quart | 1 Quart |
| Intake/Exhaust Port | NW 16 Flange | NW 16 Flange |
| Tubing Required | 1/2" ID | 3/4" ID |
| Electrical Requirements | 115v 60Hz | 115v 60Hz |
| Dimensions | 18"L x 9.2"H x 6"W | 18"L x 9.2"H x 6"W |
| Weight Net / Ship | 40# / 51# | 44# / 56# |
For More Information Contact HyVac Products 1-800-628-0850
---
HyperVac« Direct Drive High Vacuum Pumps
| | | |
| --- | --- | --- |
| Specifications | HyperVac 400 | HyperVac 600 |
| Pump Speed Liters / Min. | 380 (13.4 CFM) | 600 (21 CFM) |
| Ultimate Pressure No GB | 5 x 10-4 Torr | 5 x 10-4 Torr |
| Ultimate Pressure + GB | 5 x 10-3 Torr | 5 x 10-3 Torr |
| Water Vapor Tolerance | 25 mbar | 25 mbar |
| Pump Speed | 1725 RPM | 1725 RPM |
| Motor Speed | 1725 RPM | 1725 RPM |
| Motor HP | 3/4 HP | 1 HP |
| Noise Level dB No GB | 52 dB | 52 dB |
| Oil Capacity | 1 Quart | 1 1/2 Quart |
| Intake/Exhaust Port | NW 25 Flange | NW 25 Flange |
| Tubing Required | 1" ID | 1" ID |
| Electrical Requirements | 115v 60Hz | 115v 60Hz |
| Dimensions | 20"L x 10.4"H x 7"W | 22"L x 10.4"H x 7"W |
| Weight Net / Ship | 62# / 75# | 75# / 90# |
For More Information Contact HyVac Products 1-800-628-0850
---
HyperVac« Direct Drive High Vacuum Pumps
| | | |
| --- | --- | --- |
| Specifications | HyperVac 1000 | HyperVac 1500 |
| Pump Speed Liters / Min. | 920 (32 CFM) | 1500 (53 CFM) |
| Ultimate Pressure No GB | 5 x 10-4 Torr | 5 x 10-4 Torr |
| Ultimate Pressure + GB | 5 x 10-3 Torr | 5 x 10-3 Torr |
| Water Vapor Tolerance | 40 mbar | 40 mbar |
| Pump Speed | 1725 RPM | 1725 RPM |
| Motor Speed | 1725 RPM | 1725 RPM |
| Motor HP | 2 HP | 3 HP |
| Noise Level dB No GB | 57 dB | 57 dB |
| Oil Capacity | 2 Quarts | 3 Quarts |
| Intake/Exhaust Port | NW 40 Flange | NW 40 Flange |
| Tubing Required | 1 1/2" ID | 1 1/2" ID |
| Electrical Requirements | 115v 60Hz | 115v 60Hz |
| Dimensions | 27"L x 14"H x 9"W | 30"L x 14"H x9"W |
| Weight Net / Ship | 150# / 170# | 176# / 196# |
For More Information Contact HyVac Products 1-800-628-0850
---
ALL HyperVac Pumps Feature
Anti-suck back Valve
Forced Oil Lubrication
Low Operating Noise Level
Large Oil Sight glass
ISO Flange Fittings
Also Available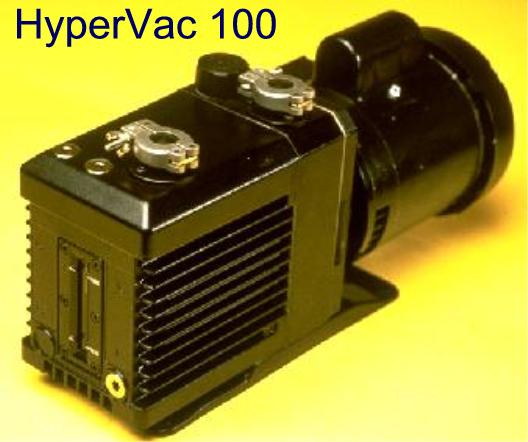 Exploded View Diagrams
Dimensional Diagrams
Performance Graphs
---
11/26/2005 ęCopyright HyVac Products, Inc. All Rights Reserved
Toll Free 1-800-628-0850