---
Vacuum Fittings
---
Known in the industry generically as quick release vacuum fittings, HyVac manufactures all kinds of these things. It is kind of a new area for us, but we are now stocking for resale, a number of these type of fittings. They can be made from aluminum, stainless steel, plastics or other materials. In principle they are quite simple, 2 flanged surfaces separated by a centering ring employing an o-ring are held together with a clamp of some design. We want to wholesale some of these, so if you are looking for quantity look no further, call us. If all you need is one-sy / two-sy we charge fair market prices which we feel are the most competitive on the street. Mention our web site to get a discount on your next order. We want to get this part of our business to a level where we can justify dedicating very specific machines to it in order to improve the prices even further.
They are divided into a number of categories of :
Clamps - NW 10 /16 / 25 /40 / 50
Hose Adapters - NW Anything x Anything
Blanks - We make all this stuff, Plastic, Aluminum, Brass, Steel, Stainless Steel
Centering Rings - Aluminum, Stainless Steel Rings, Buna, Fluoro or Silicone Elastomers
Adapter fittings - NW Anything x Most anything, NPT fittings male and female our specialty. Hose size adapters.
Specials - You need quantities greater than 25 call us for great prices. Any metal, plastics too.
Tees and Crosses - Plastic, Aluminum and Stainless.
Flexible Metal Pipe - Stainless, bronze
Hose Sections - We assemble rubber and plastic to customer specifications.
Too See ALL the NEW Fittings Click Here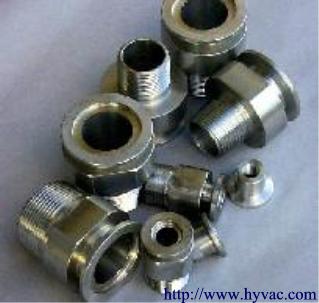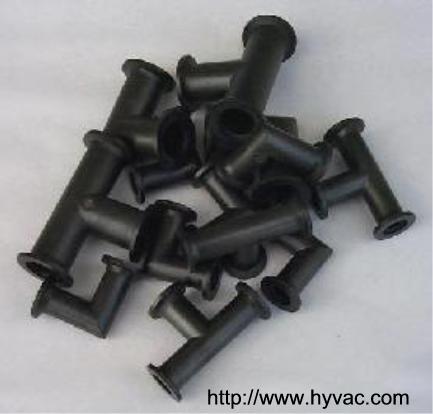 Have one you specifically need made, call us for Fast Deliveries and GREAT PRICES!!!!!
---
11/25/2005 ęCopyright HyVac Products, Inc. All Rights Reserved
Toll Free 1-800-628-0850